More "Good" than "Bad"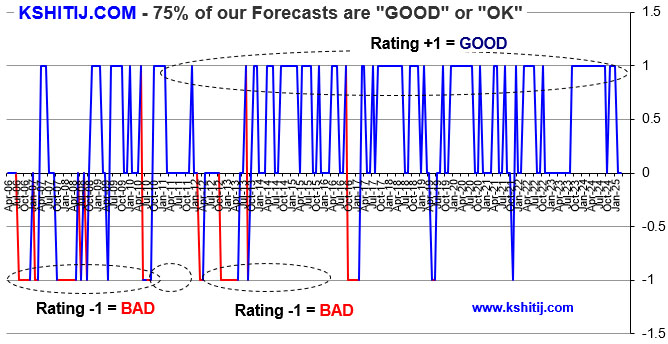 We rate our monthly Dollar-Rupee forecasts as either Good [+1] or OK [0] or Bad [-1] based on a combination of the above two criteria and that is how we say our forecasts have a reliability of 75%.
Kshitij USDINR forecasts beat market consensus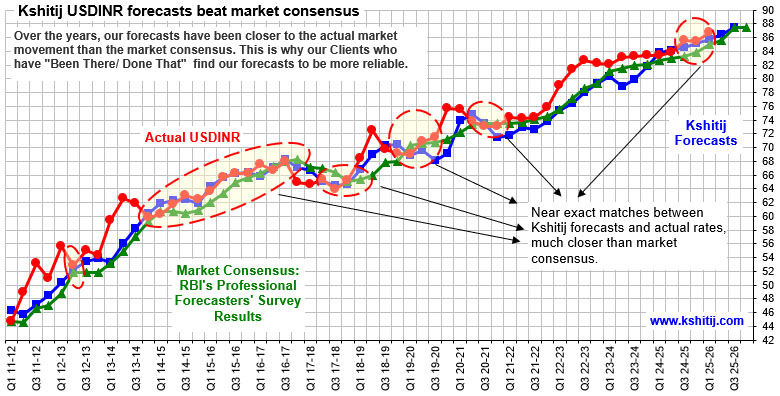 Over the years, our forecasts have been closer to the actual market movement than the market consensus. This is why our Clients who have "Been There/ Done That" find our forecasts to be more reliable.
How much of 12-month movement in USDINR was captured by Kshitij.com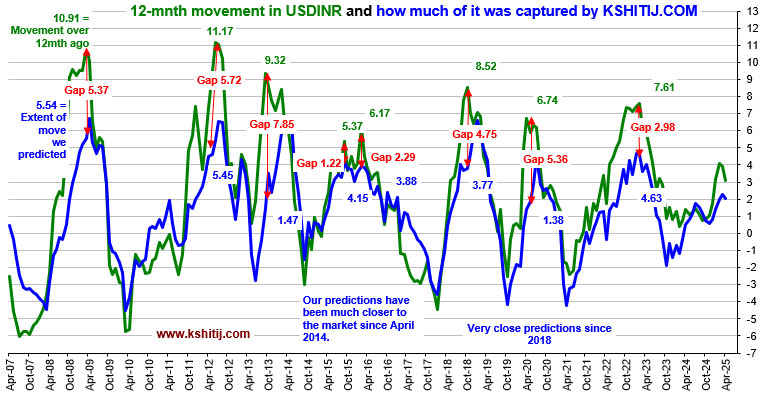 Can a Dollar-Rupee forecast tell you, reliably, where the market will be 12 months from today? Isn't that something you need? Our forecasts have been right on the ball on this for every month since 2018, as seen in the chart above.
Our Forecast Reliability has increased over time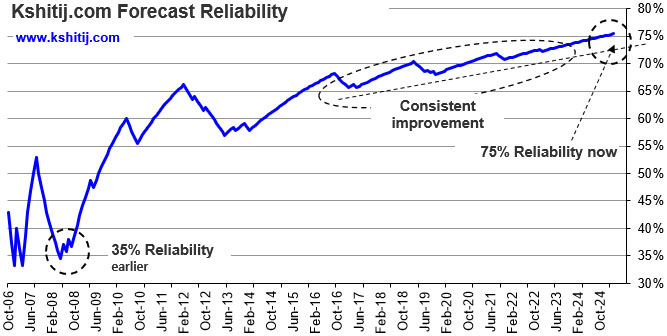 Our reliability has improved over the years from 35% in 2006 and 40% in 2008 to 75% now.
❮
❯
Our forecasts are evaluated under 2 criteria
1. Directional Accuracy
How many times do we get the direction right? Earlier, during 2006-2008 we were correct only 36% of the times. Since 2008, however, we are right on average 60% of the time.
2. Numerical Accuracy
This measures how far, numerically, our forecasts are from the actual rates that prevail later.
Our average error is down from 14.25% earlier to 2.30% now. Peak error has also come down drastically from 12.22% to an average of 5.46%.
We have been providing Reliability for the last 27 years and have been ranked #1 worldwide by Bloomberg for our Rupee forecasts in Sep 2018 and #4 for Euro Forecasts in March 2018. We have been ranked recently #4 by Bloomberg for Dec'20 USDINR Forecasts. You may read more about that
here
.