! DOCTYPE html>
Overview
The Kshitij Dollar-Yen Report takes into consideration the impact of various variables across different asset classes both Technical and Fundamental to give a comprehensive macro view for the next 1-3 quarters.

Following are few of the charts we analyze in these Reports:
Technical Price Charts of Dollar-Yen, and Nikkei
Price movements in major commodities
Price charts of Bond yields, yield differentials
Fundamental and macro-economic factors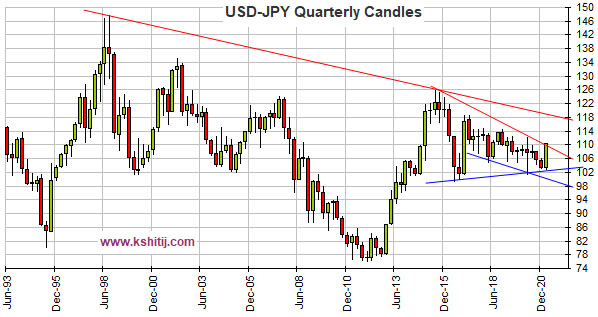 Apr ' 21 Yen Report
Currency markets are volatile and trade at crucial juncture just now. Dollar Yen too has seen an increase in volatility and has risen well over the past couple of months. In the April report we analyse how far the rally in Dollar Yen can continue.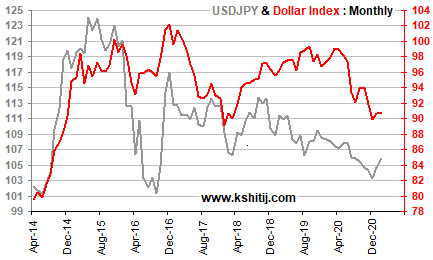 Feb ' 21 Yen Report
Dollar Yen bounced sharply over the last two months boosted by a strong Nikkei. But immediate upside could now be limited and see a pause. We revise our Jan'21 projections in the current report taking in the influence of major factors from currencies, commodities, equities and yields.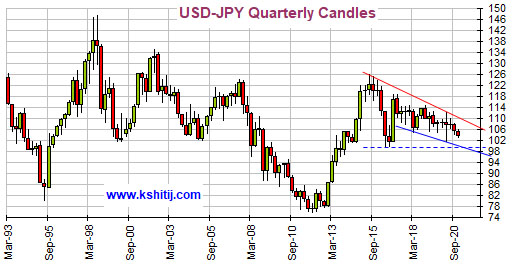 Jan ' 21 Yen Report
The Japanese Yen has been slowly appreciating over the last few months. In the Jan'21 report we analyze the extent of further fall from current levels and whether a possible reversal could be in place soon. Read the report for more details on factors that could impact the currency pair over the next couple of quarters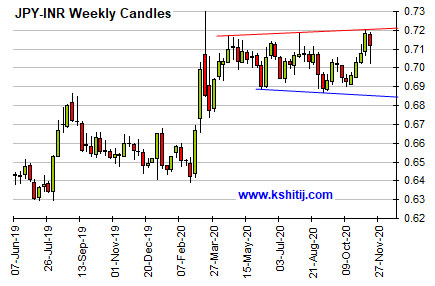 Nov ' 20 Yen Report
USDJPY broke below 104 as expected but has bounced-back sharply from 103.11. Can this bounce sustain and the pair will move up further from here? Or can there be another fall? We analyze the possibilities in this report.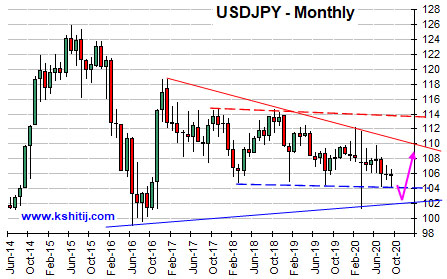 Oct ' 20 Yen Report
The support at 104 has held well and the Dollar-Yen has bounced-back in line with our expectation. However, key resistances are coming up now in the middle of its range. Will the pair break this resistance and move up to the upper end of its range or will it see a fresh fall again?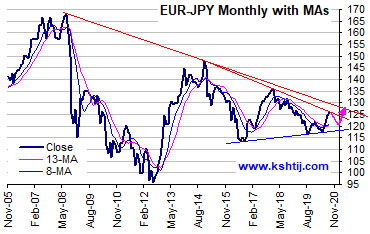 Aug ' 20 Yen Report
Dollar-Yen has risen sharply after testing the lower end of its 104-112 broad range. Will it now go up further towards upper end of the range or will the rally lose steam and the pair will fall-back again. We analyse the possibilities in this month report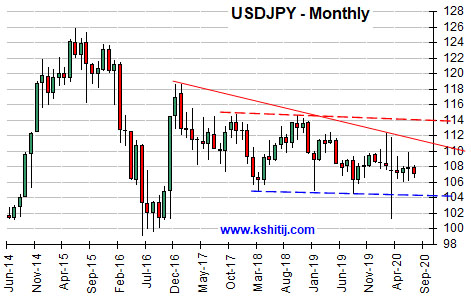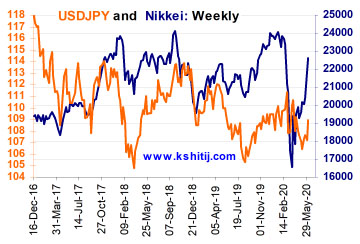 June ' 20 Yen Report
Dollar-Yen has risen sharply above 108 contrary to our expectation. Does this rule out the chances of seeing 104 on the downside that we had expected last time? Will this rally sustain and extend further or can the Dollar-Yen see a reversal again?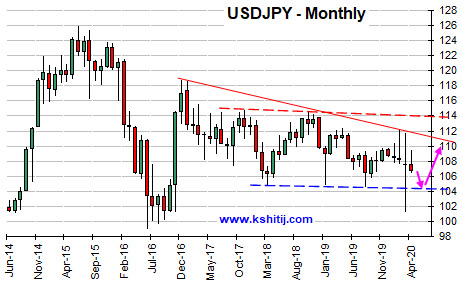 May ' 20 Yen Report
Dollar-Yen has come-off well from a high of 111.70 made in March. After an intermediate consolidation, the down move has resumed again. How far can the Dollar-Yen fall from here? Can it see a sharp fall to 102-101 again? Where can the pair find its floor to bounce again? We analyse the possibilities in this month's report.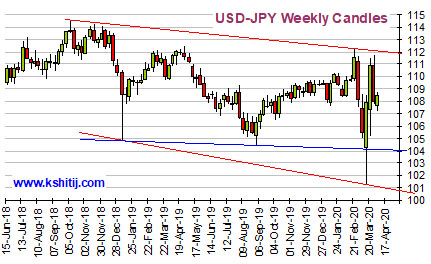 Mar ' 20 Yen Report
Sharp volatility seen in March due to COVID19 dragged down USDJPY to 101.18 before it bounced back to 112. Similar movement has been seen across all asset classes globally with equities commodities and currency markets facing panic selling along with the currency segment. Is the volatility over for now? Could there be some more panic coming in from further bad news on COVID19 concerns? While that is still uncertain, we have analysed the technical charts and factors that may affect the movement in USDJPY in the coming months.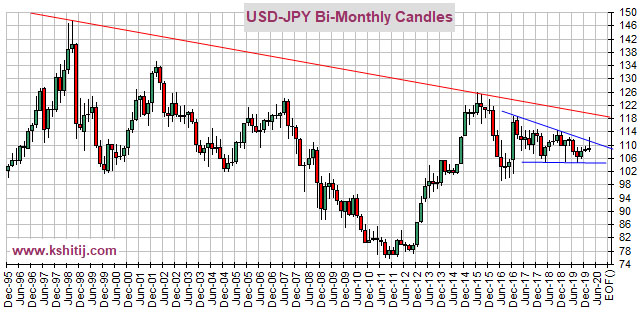 Feb ' 20 Yen Report
Dollar Yen attempted to break the contracting sideways movement that started in Apr'15 by testing 112 in Feb'20. In the current report we observe the recent sharp movements in different factors like Dollar Index, Gold, Nikkei etc brought in by the news of outbreak and spread of Coronavirus.We further analyse the resultant impact on Dollar Yen and whether there is scope for Dollar Yen to see an immediate break from the sideways consolidation.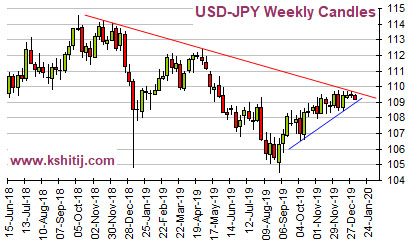 Dec ' 19 Yen Report
Rising Gold and Nikkei, weaker Dollar Index and mixed signals from other important factors have been keeping Dollar-Yen ranged for the last one month. Keeping possibilities of the sideways range to continue, we examine chances of a sharper move that could come in the 1st quarter of 2020 in our Dec'19 report.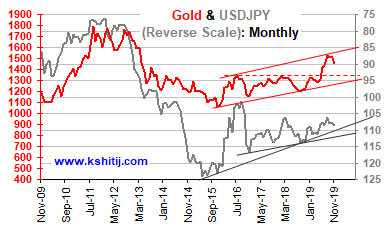 Nov ' 19 Yen Report
Resistance near 109.50-110 is very crucial just now. Although there have been hopes of US-China agreement to take place soon, any negative comments or delay in signing a deal with any unpleasant news would pull back the rise in Dollar Yen seen over the last 2-months. However, in this report we analyse the major factors affecting Dollar-Yen to see if the currency pair has some more room to extend higher.