---

We are possibly, the only forex advisor to publish a forecast track record.
72% of our Dollar-Rupee forecasts are reliable
This is based on statistical analysis of a 10-year track record since 2006. Read on below for an overview of our performance.
Our Forecast Reliability has increased over time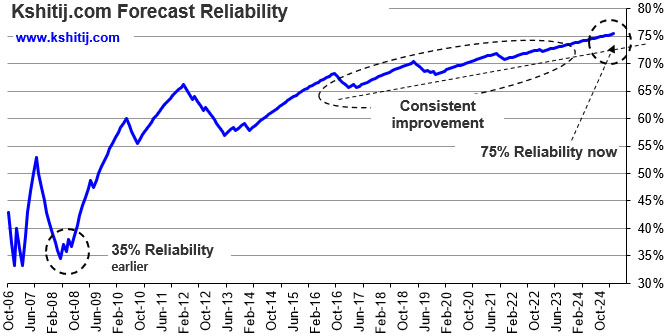 Our reliability has improved over the years from 35% in 2006 and 40% in 2008 to 72% now.
Our forecasts are evaluated under 2 criteria
1. Directional Accuracy
How many times do we get the direction right? Earlier, during 2006-2008 we were correct only 36% of the times. Since 2008, however, we are right on average 62% of the time.
2. Numerical Accuracy
This measures how far, numerically, our forecasts are from the actual rates that prevail later.
Our average error is down from 65% earlier to 3.5% now. Peak error is also down drastically from 12% to 6%.
More "Good" than "Bad"
We rate our monthly Dollar-Rupee forecasts as either Good [+1] or OK [0] or Bad [-1] based on a combination of the above two criteria and that is how we say our forecasts have a reliability of 72%.
We have been providing Reliability for the last 20 years and were ranked #1 worldwide by Bloomberg for our Rupee forecasts in Dec 2015. You may read more about that
here
.